You guys! I got a cat!
A. Cat.
Sure sure, you are probably rolling your eyes at me a bit right now. I mean, it's a cat, right? People love their pets and all, but does it really warrant exclamation points and grammatically incorrect period usage?
Yes. Yes, it does.
You have to understand, I have always wanted a cat. I'm creeping up on 40 this year and have never had my own cat. My husband is allergic. Nonetheless, through the magic of somehow not being allergic to long haired cats, I got a cat.
She was entirely unplanned, but it turns out a friend of mine has been keeping his eyes open for a long haired cat for a while and when he came across her he knew she was perfect. (And he was right.)
Going from a house that has no pets to a house that suddenly has a pet has been an interesting experience. First, while I grew up with farm cats and a healthy appreciation for how easily a cat can scratch you, my children have not had that sort of first hand experience. There was a lot of educating involved and with that a spate of explaining things through metaphor.
One of my favorite learning moments happened with my son, who is 5, asked me if perhaps Tilly is nocturnal. I give mad props to PBS Kids and, probably, the Wild Kratts, for teaching my child that word. Cats, however, are not nocturnal. So… I did what all responsible parents who don't know the answer to the question their child is asking do… I Googled it.
And this is why I am writing a post. According to the featured snippet, "Cats are crepuscular…" And lo, a new word was entered into our collective family vocabulary.
I'd never heard of an animal being crepuscular. I'd never, honestly, even heard the word crepuscular. And while the snippet does define the word for me I went a bit further to look into the word's actual definition.
According to the Cambridge Dictionary crepuscular refers to "(of animals) active or appearing at the time of day just before the sun goes down, or just after the sun rises, when the light is not bright."
And… because I'm a bit much sometimes… I also looked into the etymology of the word. It's a harsh term for something so soft and luminous as dawn or dusk. Sure enough there's an older version of the word (dating back to the 1540s) that I think fits just a touch better: crepusculine.
In any case, Tilly is absolutely a crepuscular cat. We notice her moving about the house and checking on her people first thing in the morning and around dinner time. She prowls a bit, but then follows us up to bed, and spends lots of her days lounging in sunny spots and wherever things are soft in the house.
Finally, I leave you with this moment of amusement. For as enthralling as the word crepuscular is, XKCD's graph showing the correlation between intelligence and human proximity to a cat still stands true.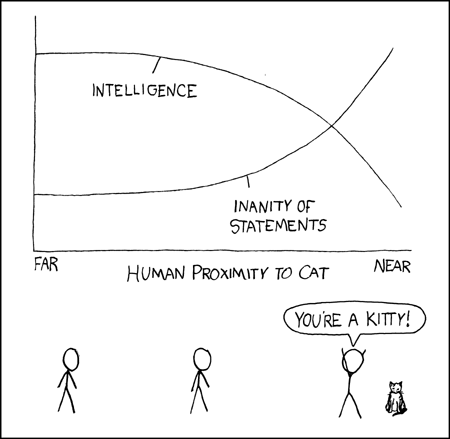 Thusly… if you find I'm making next to zero sense these days you can safely assume I am happily cuddling with Tilly. After all… "SHE'S A KITTY!"